22 Nov

Cover reveal: Ignite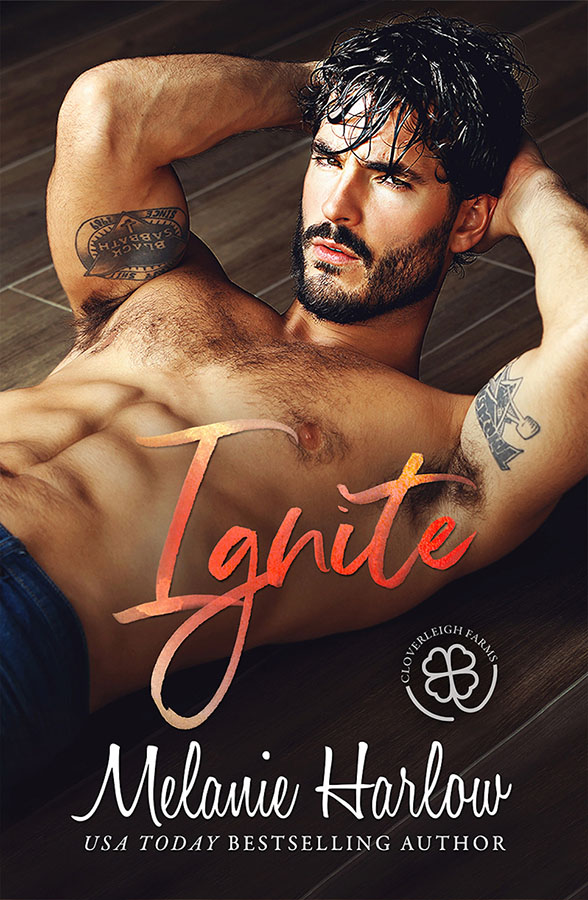 Serie
Cloverleigh Farms #6
Connect with Melanie Harlow
Un nuovo irresistibile romanzo  della serie Cloverleigh Farms di Melanie Harlow è in arrivo questo mese. 
synopsis
My new neighbor is a firefighter–and a scorching hot single dad–but I swear I didn't set off that smoke alarm on purpose.
(And I was beyond mortified when he rushed in and saw me naked.)
Nothing happened, of course–because I, Winnie MacAllister, romance junkie and owner of a constantly broken heart, have sworn off men for one solid year.
Even protective men with chiseled jaws, bulging biceps, and deep brown eyes that make my breath come faster. Even former SEALs with broad chests and strong hands that make my skin sizzle. Even gorgeous, grumpy guys who have their hands full raising two adorable little girls and claim they don't believe in love.
Until Dex kisses me one night, and I drop all my defenses.
(Also my underwear.)
He says he's not gentle, and he's right. He says I should take the dream job I'm offered in another state, and he's right. He says he's too old for me and could never be the man I deserve.
He's wrong.
Dex and I might be twelve years apart, but the fire between us is the kind that will never burn out.
How can I convince him to give happily-ever-after with me a chance?
Traduzione italiana
Il mio nuovo vicino è un vigile del fuoco e un padre single super sexy, ma giuro che non ho fatto scattare l'allarme antincendio di proposito.
(E io ero oltremodo mortificata quando si è precipitato dentro casa e mi ha vista nuda.)
Non è successo niente, naturalmente, perché io, Winnie MacAllister, drogata di romanticismo e proprietaria di un cuore costantemente spezzato, ho giurato di rinunciare agli uomini per un anno intero.
Persino a uomini protettivi dalle mascelle cesellate, con bicipiti sporgenti e profondi occhi marroni che mi fanno accelerare il respiro. Anche agli ex SEAL con il petto ampio e le mani forti che mi fanno sfrigolare la pelle. Anche a ragazzi meravigliosi e scontrosi che sono impegnati a crescere due adorabili bambine e affermano di non credere nell'amore.
Finché una notte Dex non mi bacia e io faccio cadere tutte le mie difese.
(Anche la mia biancheria intima.)
Dice che non è gentile, e ha ragione. Dice che dovrei accettare il lavoro dei sogni che mi viene offerto in un altro stato, e ha ragione. Dice che è troppo vecchio per me e che non potrebbe mai essere l'uomo che merito.
Ha torto.
Dex e io potremmo avere dodici anni di differenza, ma il fuoco che c'è tra di noi è del tipo che non si spegnerà mai.
Come posso convincerlo a dare una possibilità a un lieto fine con me?
Buy it on Amazon
Release Date
22 Novembre 2021
Category
Contemporary Romance