12 Lug

Cover reveal: The Spark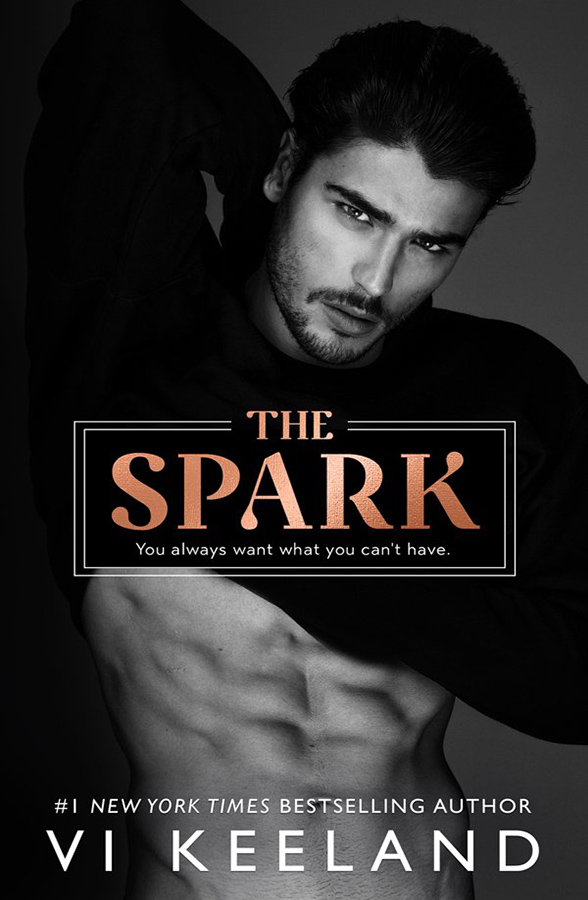 Uno scambio di valigie. Un uomo troppo bello per essere vero. E' in arrivo a Luglio un nuovo strepitoso romanzo di Vi Keeland.
synopsis
Before I even met Donovan Decker, I knew his shoe size.
You see, I'd gone away for a few days, and in my haste to get out of the airport, I'd grabbed the wrong suitcase.
After checking out the expensive footwear and tailored clothes, I dialed the number on the luggage tag hoping maybe Mister Big Spender might have my bag.
A deep, velvety voice answered, and as luck would have it, he had my suitcase, too.
Donovan and I met at a coffee shop to do the exchange.
Turned out, it wasn't just his voice that was sexy. The man holding my luggage was absolutely gorgeous, and we had an immediate spark.
He got me to admit that I'd snooped in his bag and then convinced me to make it up to him by letting him buy me coffee.
Coffee led to dinner, dinner led to dessert, and dessert led to spending an entire weekend together. Donovan wasn't just handsome with a panty-dropping voice. He was also funny, smart, and surprisingly down to earth for a man who wore seven-hundred-dollar shoes.
Did I mention he also did my laundry while I slept?
Definitely too good to be true.
So what did I do to repay him for his kindness?
I waited until he was in the shower, then ghosted him.
My life was too complicated for such a great guy.
In the months that passed, I thought about Donovan often. But New York City had eight-million people, so what were the chances I'd run into him?
Then again, what were the chances I'd run into him a year later…when I'd just started dating his boss?
Traduzione italiana
 Conoscevo il numero di scarpe di Donovan Decker prima ancora di incontrarlo.
Vedete, ero partita per alcuni giorni e nella fretta di uscire dall'aeroporto, avevo preso la valigia sbagliata.
Dopo aver dato un'occhiata alle costose calzature e agli abiti su misura, ho composto il numero che si trovava sull'etichetta del bagaglio nella speranza che Mister Spendaccione potesse avere la mia valigia.
Mi rispose una voce profonda e vellutata che, per fortuna, aveva anche la mia valigia.
Donovan e io ci incontrammo in un bar per fare lo scambio.
Venne fuori che non era solo la sua voce a essere sexy. L'uomo che aveva preso il mio bagaglio era assolutamente stupendo e tra di noi scattò subito la scintilla.
Mi fece ammettere che avevo ficcato il naso nella sua valigia e poi mi convinse a farmi perdonare permettendogli di offrirmi il caffè.
Il caffè ci ha portato alla cena, la cena al dessert e il dessert a trascorrere un intero fine settimana insieme. Donovan non era solo bello e con una voce da strappa-mutande. Era anche divertente, intelligente e sorprendentemente con i piedi per terra per un uomo che indossava scarpe da settecento dollari.
Vi ho detto che mentre dormivo ha fatto anche il bucato?
Decisamente troppo bello per essere vero.
Allora cosa ho fatto per ripagarlo della sua gentilezza?
Ho aspettato che fosse sotto la doccia e poi sono sparita.
La mia vita era troppo complicata per un ragazzo così eccezionale.
Nei mesi successivi, pensavo spesso a Donovan. Ma New York ha otto milioni di abitanti, quindi quali erano le possibilità di poterlo incontrare?
D'altra parte, quali erano le possibilità di incontrarlo un anno dopo … quando avevo appena iniziato a uscire con il suo capo?
Buy it on Amazon
Release Date
12 Luglio 2021
Category
Contemporary romance