08 Giu

Summer Fling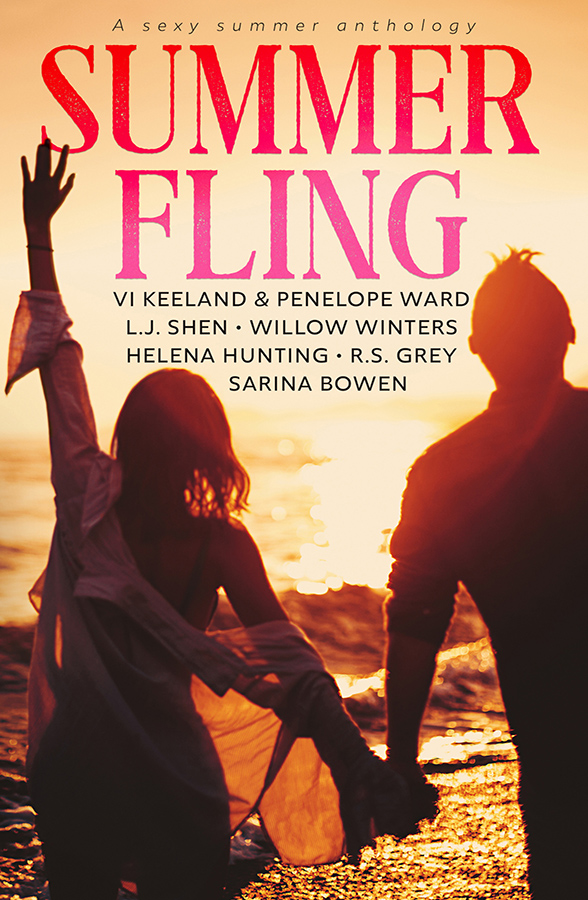 Sta arrivando l'estate ed è tempo di brevi letture per trascorrere ore divertenti sotto l'ombrellone. Vi Keeland, Penelope Ward, LJ Shen, Helena Hunting, R.S. Grey, Willow Winters, e Sarina Bowen regalano a tutti i loro lettori una antologia estiva molto speciale composta dai sei brevi racconti a tema estate. E tutto questo è gratis! 
synopsis
For a Good Time Call by Vi Keeland and Penelope Ward
Hai mai visto la scritta Se vuoi spassartela chiama scarabocchiata sul muro del bagno di un bar? Sicuramente si. Ti sei mai chiesta cosa sarebbe successo se avessi bevuto troppi drink e avessi chiamato il numero? Bene, ora non devi più chiedertelo, perché te lo dirò io… Ti esplode in faccia quando improvvisamente ti rendi conto chi è il signor Good Time.
Eternal Sunshine by L.J. Shen
Adam Mackay è il migliore amico di mio fratello, che è diventato il rubacuori di Hollywood, e che ora è il mio nuovo ed esasperante capo.
Sembra complicato? Non avete idea la minima idea…
Stay Right Here with Me by Willow Winters
Non sai quanti errori ho commesso seduta proprio in questo posto in questo piccolo bar della città. Mentre guardo le porte di ferro che si chiudono nel momento in cui l'uomo dalle ampie spalle che è appena entrato si siede di fronte a me, so già che lui fa parte di quella lista di "Non avrei dovuto farlo…"
Damsel Dude in Distress by Helena Hunting
Pensavo di aiutare una fanciulla in pericolo. Si scopre che la fanciulla in realtà è un bel ragazzo sfortunato. È iniziato tutto con un'auto in panne e si è concluso con un grande motel, un campeggio al coperto e lezioni di Kama Sutra.
The Beach R.S. Grey
Non dovrei essere in vacanza con il fratello maggiore della mia migliore amica. Lo desideravo da così tanto tempo e ora siamo inaspettatamente soli in un paradiso tropicale. Naturalmente, ho messo in valigia molti bikini, ma avrei dovuto portare un'armatura se volevo avere qualche speranza di sopravvivere alla mia settimana di vacanza con Noah Martin … o dovrei dire, dottor Martin.
Lucky Shot by Sarina Bowen
Bess Beringer, agente sportivo alle prime armi, riceve una vera e propria istruzione la sera della sua sfarzosa cena di lavoro a New York. Ma le cose che impara non hanno nulla a che fare con le regole della squadra o la negoziazione di un contratto. Fortunatamente, il giocatore di hockey principiante Mark "Tank" Tankiewicz è un insegnante di livello professionale…
Versione originale
For a Good Time Call by Vi Keeland and Penelope Ward
Ever see For a good time call scribbled on the bathroom wall of a bar?  Sure you have.  Ever wonder what would happen if you had a few too many drinks and actually called the number? Well now you don't have to wonder anymore, because I'll tell you… It blows up in your face when you suddenly realize who Mr. Good Time is.
Eternal Sunshine by L.J. Shen
Adam Mackay is my brother's best friend, turned Hollywood heartthrob, who is now my brand new, infuriating boss.
Sounds complicated? You have no idea…
Stay Right Here with Me by Willow Winters
I can't tell you how many mistakes I've made sitting in this very spot in this small town bar. Watching the iron doors swing closed as the broad-shouldered man who just walked in sits across from me, I already know he's on that list of, "I shouldn't have done that…"
Damsel Dude in Distress by Helena Hunting
I thought I was helping a damsel in distress. Turns out my damsel was actually a hot dude with some bad luck. It started with a broken down car and ended with a gross motel, an indoor campout and a set of Kama Sutra sheets.
The Beach R.S. Grey
I'm not supposed to be on vacation with my best friend's older brother. I've wanted him for so long, and now we're unexpectedly alone in a tropical paradise. Naturally, I packed a lot of bikinis, but I should have brought armor if I want to have any hope of surviving my week away with Noah Martin…or should I say, Dr. Martin.
Lucky Shot by Sarina Bowen
Rookie sports agent Bess Beringer gets a real education on the night of her first glitzy New York business dinner. But the things she learns have nothing to do with roster rules or contract negotiation. Luckily, rookie hockey player Mark "Tank" Tankiewicz is a pro-level teacher…
Grab your free copy today, before it goes away!  Available for only a limited time!
Release Date
8 Giugno 2020
Category
Contemporary Romance