06 Set

Cover reveal: Finding Storm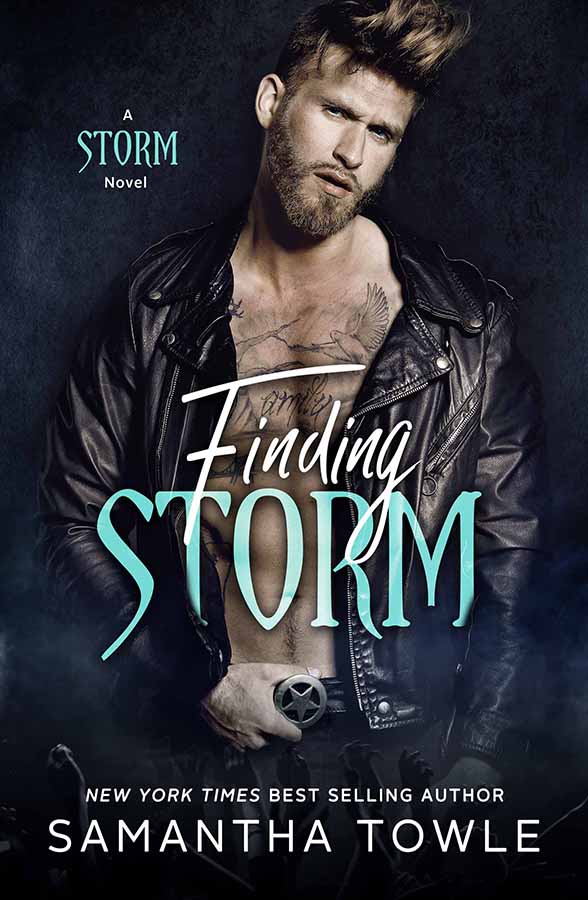 Connect with Samantha Towle
Torna Samantha Towle, ma soprattutto ritorna la Storm series. E questa volta il protagonista sarà il figlio di una leggenda del rock!
synopsis
Il figlio di un'icona.
Lui era una leggenda. Una maestà del Rock.
Un uomo che non ho mai incontrato.
Ma mi sono dovuto misurare con lui in ogni aspetto della mia vita.
L'unica volta che mi sento me stesso … il vero me … è quando sono sul palco con la mia band. Ma più cresciamo in popolarità, più le persone mi paragonano a lui.
Ma io non sono lui. E non lo sarò mai. Se solo tutti riuscissero a capirlo.
Ho bisogno di prendermi una pausa da tutto questo.
Poi, uno scontro mi fa saltare in macchina, facendomi lasciare Los Angeles alle spalle. E uno stupido sbaglio termina con la mia macchina sul ciglio della strada. E direttamente sul cammino di una ragazza che è l'esatto opposto di tutti quelli presenti nella mia vita.
Lei è tutto ciò che conoscevo.
E non ha idea di chi io sia.
E anche se lo sapesse, non penso che le importerebbe.
Lei pensa che io sono altezzoso.
Io penso che lei sia intrigante. E sexy. Non ci dimentichiamo che è sexy.
Sono bloccato in questa città per tutta la notte mentre riparano la mia macchina. Ma penso che resterò un po' più a lungo.
Sono Storm Slater, il chitarrista dei Slater Raze e l'unico figlio del grande Jonny Creed.
Ma, qui, ora … non sono nessuno. Sono solo un ragazzo normale.
E mi piace un sacco.
E lei mi piace anche di più.
Versione originale
The son of an icon.
He was a legend. Rock royalty.
A man I never met.
But I'm measured against him in every aspect of my life.
The only time I feel like me … the real me … is when I'm onstage with my band. But the more we grow in popularity, the more people compare me to him.
I'm not him. And I never will be. If only everyone could figure that out for themselves.
I need a break from it all.
Then, a confrontation has me jumping in my car, putting LA in my rearview mirror. And a stupid mistake ends up with my car on the side of the road. And straight into the path of a girl who is the exact opposite of everyone else in my life.
She's like everything I used to know.
And she has no clue who I am.
Even if she did, I don't think she'd care.
She thinks I'm cavalier.
I think she's intriguing. And hot. Let's not forget hot.
I'm stuck in this town overnight while my car is being fixed. But I'm thinking I'm gonna stick around a bit longer.
I'm Storm Slater, lead guitarist in Slater Raze and the only child of the late, great Jonny Creed. But, here, right now … I'm nobody. Just a regular guy.
I'm liking it a whole lot.
And I'm liking her even more.
Buy it on Amazon
Release Date
6 settembre 2019
Category
Contemporary romance