18 Gen

Cover reveal: The invitation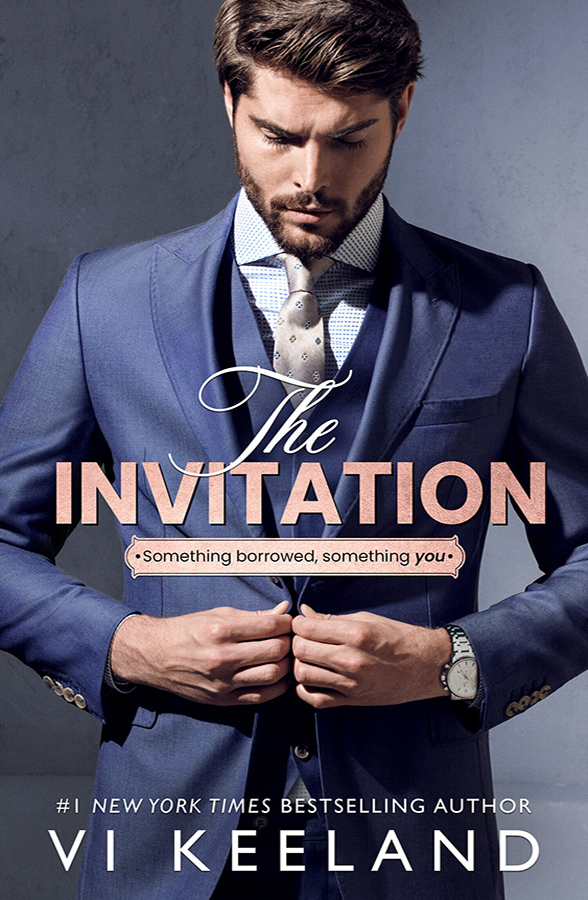 Un invito inaspettato a un favoloso matrimonio. Un bellissimo e affascinante testimone dello sposo. Peccato però che l'invito non era per lei…è in arrivo a Gennaio il nuovo strepitoso romanzo di Vi Keeland.
synopsis
The first time I met Hudson Rothschild was at a wedding. I'd received an unexpected invitation to one of the swankiest venues in the city.
Hudson was a groomsman and quite possibly the most gorgeous man I'd ever laid eyes on.  He asked me to dance, and our chemistry was off the charts.
I knew it wasn't a good idea to get involved with him, considering the wedding I was at.  But our connection was intense, and I was having a great time.
Though the fun came to a screeching halt when Hudson figured out I wasn't who I'd said I was.  You see, that unexpected invitation I received? Well, it hadn't actually been addressed to me—it was sent to my ex-roommate who'd bounced a check for two months' rent and moved out in the middle of the night.  I figured she owed me an expensive night out, but I guess, technically, I was crashing the wedding.
Once caught, I couldn't get out of there fast enough. As I bolted for the door, I might've plucked a few bottles of expensive champagne off the tables I passed, all while the gorgeous, angry groomsman was hot on my tail.
Outside, I jumped into a taxi. My heart ricocheted against my ribs as we drove down the block—but at least I'd escaped unscathed.
Or so I thought.
Until I realized I'd left my cell phone behind at the table.
Take one guess who found it?
This is the crazy story of how Hudson Rothschild and I met. But trust me, it's only the tip of the iceberg.
Traduzione italiana
La prima volta che ho incontrato Hudson Rothschild è stato a un matrimonio. Avevo ricevuto un invito inaspettato per uno dei luoghi più eleganti della città.
Hudson era il testimone dello sposo e molto probabilmente l'uomo più favoloso che avessi mai visto. Mi chiese di ballare, e la nostra chimica era senza precedenti.
Sapevo che non era una buona idea farmi coinvolgere da lui, considerando il matrimonio a cui mi trovavo. Ma la nostra connessione era intensa e mi stavo divertendo molto.
Ma il divertimento è finito bruscamente quando Hudson ha capito che non ero chi avevo detto di essere. Vi ricordate di quell'invito inaspettato che avevo ricevuto? Beh, in realtà non era indirizzato a me: era stato inviato alla mia ex compagna di stanza che aveva lasciato un assegno scoperto per pagare due mesi di affitto e si era trasferita nel cuore della notte. Immaginavo che fosse in debito di una costosa serata fuori, ma tecnicamente, mi ero imbucata al matrimonio.
Una volta scoperta, non sono riuscita ad andarmene abbastanza velocemente. E mentre mi precipitavo verso la porta, potrei aver sottratto dai tavoli qualche bottiglia di costoso champagne costoso, il tutto mentre lo splendido e arrabbiato testimone mi stava alle calcagna.
Sono saltata su un taxi. Il cuore mi rimbalzava nel petto mentre ci allontanavamo lungo l'isolato, ma almeno ne ero uscita illesa.
O almeno così pensavo.
Finché non realizzai di aver lasciato il cellulare sul tavolo.
Indovina chi l'ha trovato?
Questa è la folle storia di come ci siamo conosciuti io e Hudson Rothschild.
Ma credetemi, è solo la punta dell'iceberg.
Buy it on Amazon
Release Date
18 gennaio 2021
Category
Contemporary romance